Do You Have Fond Memories Of Family Time In The Kitchen?
Perhaps it was long afternoons with mom following grandma's secret pie recipe. Or maybe it was the time spent with dad preparing a holiday meal. For many of us, there are a plethora of joyful childhood memories involving family, the kitchen and meals.
Now days, parents practicing the art of raising children are seeing a lot more hurdles to family time and creating these kinds of memories coming their way.
Obstacles To Family Time Have Increased Over The Years
We all know that screens have become increasingly prominent in kids lives these days. Your parents used to compete with a single screen for your attention. Today, the average household has up to seven screens in their home!
From binge-watching cartoons to playing on mobile devices, children do many things that eat up their time – the time that could be spent with family forming bonds or learning a high-value life skill.
Many mothers find it difficult to switch their kid's attention to something more productive and fulfilling.
Why Is It Important To Bake And Cook With Your Children?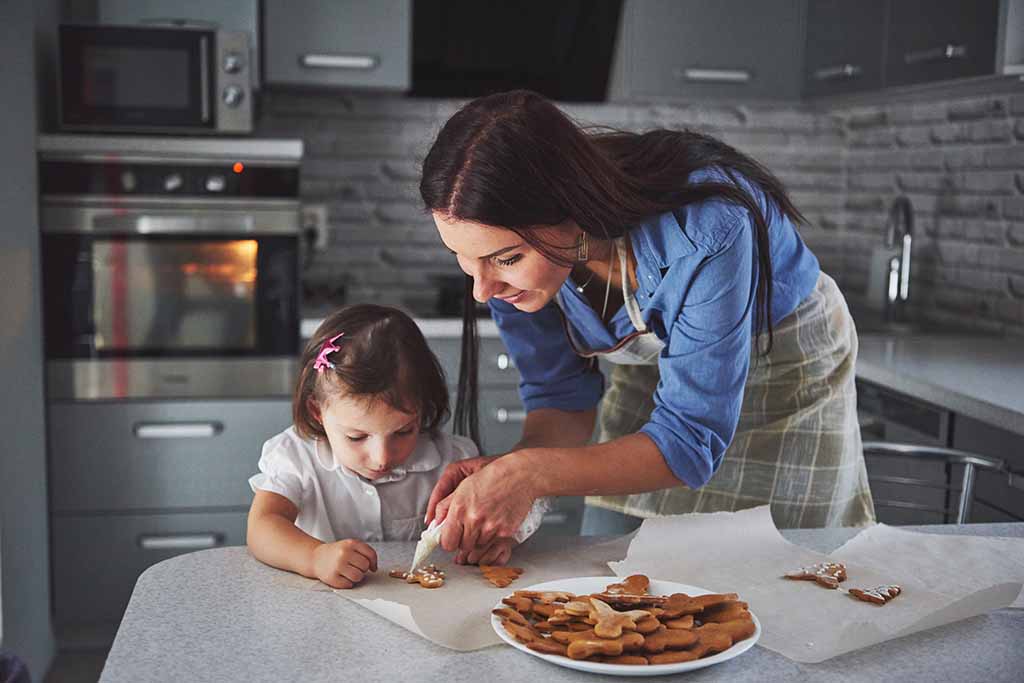 Kids love "making things." This can be anything from drawing sketches or baking pies.
Food is essential to survival and so teaching a life skill that allows your child to nourish themselves is an obvious benefit. However the nutritional value of food is not the only benefit. Some more reasons for baking with children include:
Bonding with family.
Giving your children a sense of accomplishment from being creative.
Instilling pride as they learn the skills that allow them to nourish their tribe (family.)
Increased self sufficiency in life.
What Should You Cook With Your Children?
First, if your child shows an interest in cooking, you can motivate them to learn culinary skills. Of course, It is not going to be easy. You would need to start from basics and make them comfortable in the kitchen and appliances.
Another problem many parents often face is running out of things to cook. Sure, we all have our main "go to" menus, but then find ourselves struggling to find something new to make that will continue to foster you child's interest in culinary arts.
As a result, parents often turn to internet searches for recipes. The internet can soon become overwhelming, with many recipes that are complicated and not well suited for kids. This is why we think getting a kids their own kid chef cookbook is the perfect answer!
First, you get a set of recipes specifically made for kids. Second, your are giving them a gift of their very own, making them feel important in the kitchen. Third they often come with a kid themed design that children will love. Lastly, they will be easy to find when you want to make the recipes again and again, instead of hiding out in your bookmarks somewhere.
What Type Of Cookbook Should You Get?
The answer to this question is a personal one. What is most important to you? Do you want recipes that are really easy to do? What about healthy recipes? Or perhaps, you would like a traditional cookbook gets you child in touch with their heritage.
Whichever of the above is most important to you, we have got you covered. We have been researching all of the cookbooks that are often bought with our Kids Baking Set, Kids Cooking Set and Kids Cake Decorating Set on Amazon to try and figure out which ones are the best.
Best Cookbooks for Children
It's no secret – children are fond of gifts, and a cookbook can be a unique addition to their personal set of proud possessions! It can inspire them to learn something new and important.
Here are the beginner cookbooks to awaken the budding master chef in your child!
1. Cooking Class: 57 Fun Recipes Kids Will Love To Make (and Eat!)
Author: Deanna F. Cook
What do children love? They love graphics and illustrations that make their learning easy. This book is one of the best children's first cookbook recipe sets that spark your child's mind to create, learn, have fun and make something interesting.
The range of recipes in the book are at beginner level that can be easily understood by your kid. Along with this, you can find recipe cards, labels, and game cards that create an overall gala experience in the kitchen.
Furthermore, the book doesn't only focus on making your child learn a new recipes, but it also seeks to give their imagination a boost. For instance, it teaches them the imaginative and creative presentation of food.
The recipes are written in a fun tone that is easy for them to understand. Additionally, the recipes include many child favorites. What else do you want?
Buy the book here
2. The Cookbook for Kids (Williams-Sonoma): Great Recipes for Kids Who Love To Cook
Author: Lisa Atwood
If you are looking for a comprehensive book for a wide range of recipes, maybe this one's for you. The cookbook includes more than 60 delicious recipes for your kids to try and eat.
The recipes are quite easy that can be understood by any kid. Along with this, the tempting photographs will excite children to rush into the kitchen immediately to get started.
The illustrations and top-notch photography are the biggest assets of this book. The colorful portrayal, graphics, the way of teaching recipes, as well as the basics of healthy eating work great for your kid to learn and grow into a pro chef.
Buy the book here.
3. The Forest Feast For Kids: Colorful Vegetarian Recipes That Are Simple To Make
Author: Erin Gleeson
Are you a vegetarian? Do you wish your kid to become one? Perhaps, your children's' first cookbook recipes should come from a vegetarian book like this one.
This one on the list is specifically crafted for the vegetarians out there. Moreover, the author of this book is a renowned food blogger and a New York Times best selling author for children's cookbooks. Erin knows how to entice your child's imagination. The excellent illustrations, hand-drawn letters, and attractive pictures are perfect to pique your child's interest in cooking.
The simple dishes can be tried out easily and served elegantly even at an adult party. Do you know the best part? The recipes are so simple that it usually takes no more than 2 steps to conclude. Awesome, right?
Buy the book here.
4. The Unofficial Harry Potter Cookbook: From Cauldron Cakes To Knickerbocker Glory
Author: Dinah Bucholz
Alohomora!
*the harry potter cookbook door opens*
Well, the book is crafted around the Harry Potter theme to make your kid fall in love with the art of cooking and the wizarding world. The book is perfect for your little Potterhead to develop their interest in cooking. It has a wide collection of more than 150 recipes with descriptions of holiday feasts.
This book is considered one of the best kids' dessert cookbooks. As an added bonus, you get the recipe for Harry Potter's favorite dessert! So wait not, get your child on the magical journey of cooking through this book.
Buy the book here.
5. Pretend Soup And Other Real Recipes
Author: Mollie Katzen, Ann Henderson
Although published in 1994, this book is still considered as the best for children's first cookbook recipes. It is popular among children and parents for its simple vegetarian recipes. Moreover, the New York Times recognizes this book as the gold standard of children cookbooks.
From our perspective, the recipes included in the book are easy, tried, and tested. With this book in your child's hand, you can be assured it will serve as a guide while your kid indulges in cooking something scrumptious for you and your family!
Buy the book here.
6. Super Foods for Super Kids Cookbook
Author Name: Noelle Martin
The biggest concern of parent's is the health of their children. That's why many want to teach their kids to eat healthy. However, it is a constant struggle to add healthy ingredients to your child's food.
However, you can put an end to this struggle by teaching them to eat healthy with the help of this book. The sole purpose of this book is to teach your child the importance of healthy eating by cooking healthy recipes. The book contains more than 50 easy snack and treat recipes that can be easily understood by your kid.
The book is separated into five sections breakfast, lunch, dinner, snacks, and desserts. That way, your kid will learn different healthy recipes with their every meal.
Buy the book here.
7. The Silver Spoon For Children
Author: Amanda Grant
Is your child fond of Italian food? If yes, this book is made for them!
The book includes 50 Italian recipes that are quick as well as delicious.
The book features interesting illustrations with step by step instructions of Italian recipes which are fun to understand. Additionally, the colorful graphics and photographs of finished dishes are amazing add-ons for your kid to fall in love with cooking. The hand-drawn illustrations are described in detail to leave no room for confusion.
Buy the book here.
8. Kid Chef Junior: My First Kids Cookbook
Author: Anjali Shah
If you wish for your child to build confidence in the kitchen, this book is for them. It is a great book for your child's first step toward developing an interest in cooking.
Furthermore, the book includes nutritious and wholesome recipes that your kids will enjoy to cook and eat. The interesting photographs will fuel their creativity turning them into rising culinary stars!
Buy the book here.
9. The International Cookbook For Kids
Author: Matthew Locricchio
The International Cookbook for kids is yet another pick that you can choose to inspire your young fellow to learn culture with food.
The best part about this book is that it is diverse. It can take your child through distinct cultures with its recipes. The book contains more than 60 recipes from Italy, Mexico, China, and France. The easy to understand language along with illustrations and photographs are additional plus points for this cookbook.
In addition, this book also includes a safety section that teaches your child basic kitchen safety and precautions.
Buy the book here.
10. Baking
Author: Jess and Laura Tilli
Does your child love baking? If you are nodding, this wonderful book is ideal for you – it is dedicated to kids who enjoy baking. The cookbook features 30 easy recipes with step by step pictorial instructions that keep your child motivated in the kitchen.
Buy the book here.
Takeaway
Gifting your child a cookbook motivates them to step into the kitchen and cook for their loved ones. They need not be super chefs, but someone who can cook decently and rejoice while making some new recipes!
Let them enjoy their time in the kitchen and appreciate them build their confidence. Also, don't forget to give them some cute kitchen essentials like aprons and baking sets – these will make them even more excited to get cooking! Shop now!
---
PRODUCTS RELATED TO THIS POST
---