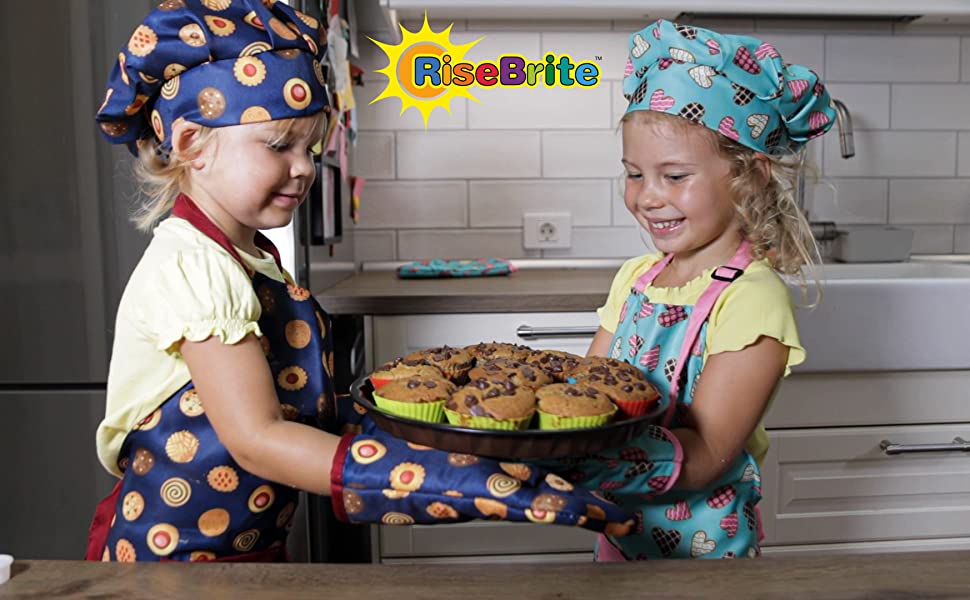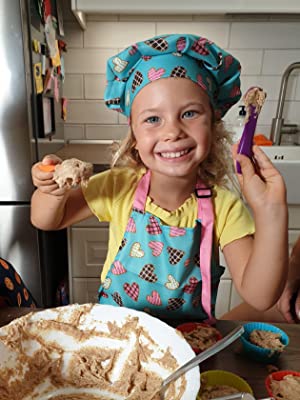 Welcome to RiseBrite!
We believe promoting creativity in kids will lead to more confident, happy and mindful human beings. Kids that are able to connect with the world and themselves. Kids that are able to discover who they are and who they want to be.
We strive to create high quality products that spark creativity through different activities. We hope to encourage and inspire young artists to cultivate and nourish their imagination and creativity for a world full of possibilities!
Play, Laugh, Love, Create!
Cooking

Baking

Decorating

Painting

Crafting
DO YOU LOVE YOUR KIDS AND WANT TO SEE THEM HAPPY???
Spending time in the kitchen creating new recipes helps our children develop a wide variety of skills. Including basic math skills, like counting ingredients, introducing new words, by reading recipes and working on listening skills, by following the recipe steps. Kids will learn valuable skills that they will use for the rest of their lives giving them more confidence and promoting a sense of accomplishment.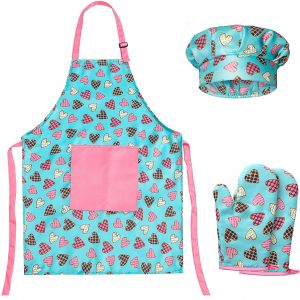 Are you worried your kids will get their clothing stained while cooking and baking???
There is no reason why you should worry anymore! With this high quality apron your child's clothing will be protected and your kids will be as happy as they can be.
This kids apron for girls measures 24×11 inches making it ideal for ages 4-10.
Let your child explore, let them bake, let them cook, let them be creative!
An apron is a cape on backwards… Let your little one be the Hero!
Our kids aprons are made from breathable soft premium polyester with reinforced edges that are made to last and can be worn over and over again for any activity. A pocket in the middle of the apron makes for easy holding of cooking utensils, recipe cards, tools and more.
These kids aprons are reusable, multifunctional and easy to clean. Just throw them in the washing machine and have a clean, wrinkle and shrinkage free apron.
Ready for your kid to take on the world!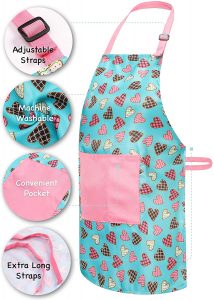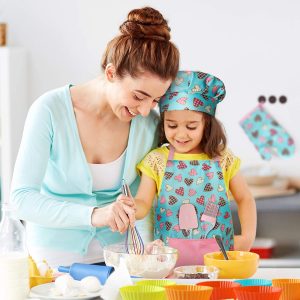 GREAT VALUE
This beautifully designed children's chef hat and apron with oven mitts set are durable and made for repeated use during kids activities like cooking, baking, gardening and more.
PERFECT GIFT
Whether it's a reward for your kids or a birthday gift for a friend / relative, girls and boys will be jumping with joy when receiving their kids chef hat and apron gift.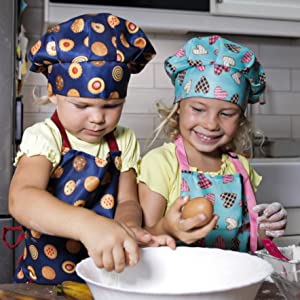 ENDLESS FUN
Engage your whole family in the magic of cooking. This is the perfect opportunity to spend quality time, and get kids excited in the kitchen. From cooking special celebration dinners, to a spontaneous afternoon cooking session with the kiddos.