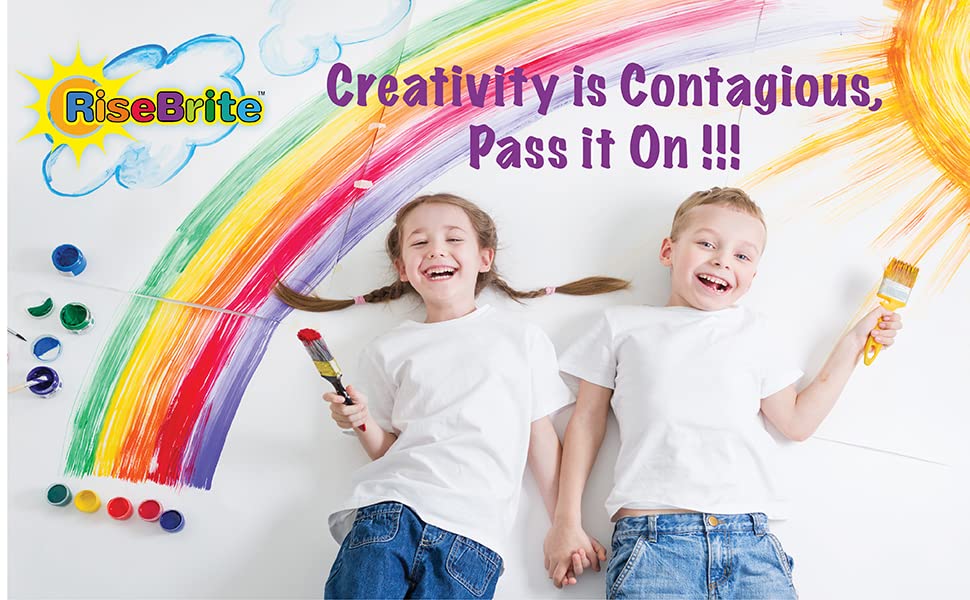 Welcome to RiseBrite!
We believe promoting creativity in kids will lead to more confident, happy and mindful human beings. Kids that are able to connect with the world and themselves. Kids that are able to discover who they are and who they want to be.
We strive to create high quality products that spark creativity through different activities. We hope to encourage and inspire young artists to cultivate and nourish their imagination and creativity for a world full of possibilities!
Play, Laugh, Love, Create!
Painting

Baking

Cooking

Decorating

Crafting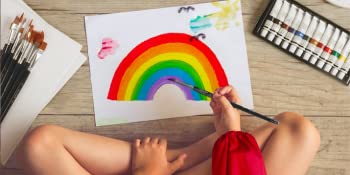 DO YOU LOVE YOUR KIDS AND WANT TO SEE THEM HAPPY???
Acrylic painting is an educational opportunity that can be fun and exciting for both kids and adults. It promotes stress relief and cultivates emotional growth. Painting with can be specifically beneficial for kids as it helps them to communicate emotions and feelings without using words. It helps nurturing creativity and imagination promoting critical thinking and creative problem solving.
LET'S PAINT!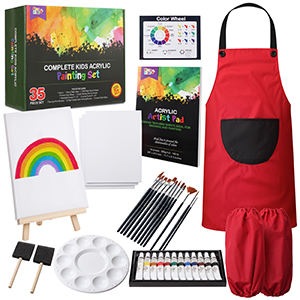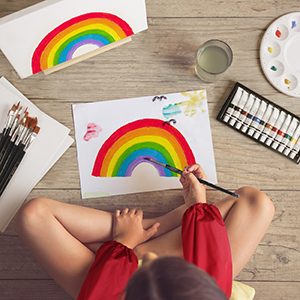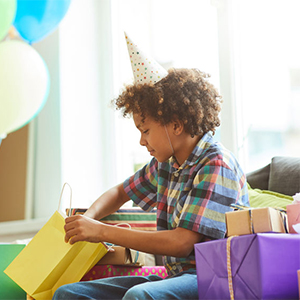 GREAT VALUE
Each item in this all in one starter painting kit is made of the highest quality, premium, sturdy and durable materials that will allow kids explore their creativity to their greatest potential.
ENDLESS CREATIVITY
Whether your child is already an art lover or you're looking to introduce more screen-free time into their day, they'll love the range of supplies in this art kit.
PERFECT GIFT
This gift ready kids painting set is a great gift idea for kids. Whether it's a reward for your kids or a birthday gift for a friend / relative, girls and boys will be jumping with joy when receiving this kids art set.
Each 35-Piece Paint Kit for Kids Includes:
1 Tabletop Easel For Kids

1 Waterproof Kids Apron

1 10-Well Plastic Round Palette

1 Pocket Color Wheel

1 Acrylic Painting Pad (300g/m2) with 16 Sheets

1 Stretched Canvas 9″ x 12″

2 Sponge Paint Brushes

3 Canvas Panels 8″ x 10″

12 High Quality Nylon Painting Brushes

12 Non Toxic Acrylic Paint Tubes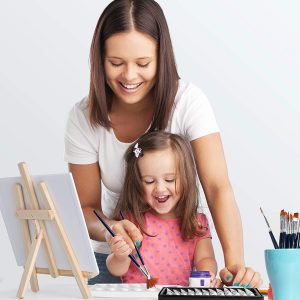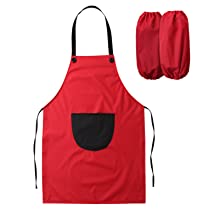 Waterproof Apron with Oversleeves
The kids apron is made from breathable, waterproof, premium polyester material with reinforced edges that are made to last and can be thrown in the washing machine for easy clean up.

The apron for kids is fully adjustable that will fit most kids with a belt in back for easy to put on and take off and a front pocket that can hold kids art supplies such as paints, brushes, pencils, etc.

Apron measurements are: width 18″, length 24″, sleeves 9.5″.
Portable Lightweight Tabletop Easel
This table easel for kids is lightweight, sturdy, and provides a smooth surface for your kids creations.

This tabletop easel accommodates canvas art up to 12″ high and can be used for sketching, painting or simply displaying finished pieces of art.

The A-frame style design makes it easy to set up or even fold up for transportation and storage.

Made from durable hardwood, it requires no assembly.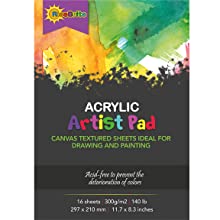 Canvas Textured Sheets Ideal for Drawing and Painting
This is a full canvas and paint set that includes a stretched canvas, canvas panels and paper pad.

This acid-free acrylic paper pad keeps the art work vibrant by not allowing any bleed.

Suitable for different artistic purposes as it can also be use for watercolor and oil painting.

Glue-bounded to avoid tearing and damaging pages.

It's a great way to start practicing painting or to use for drawing as a sketch paper for your kids masterpieces.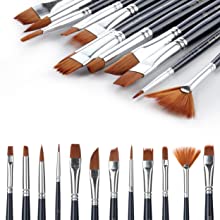 High Quality Nylon Paintbrushes
These paintbrushes for kids are a great introduction to professional quality. Whether your kid is advanced or a beginner, quality brushes make all the difference.

This painting kit includes a full range of paint brush sizes and shapes that will allow kids explore more their creativity, allowing them to enjoy painting.

To clean, run brushes under warm water, washing out the paint and gently use your fingers to reshape